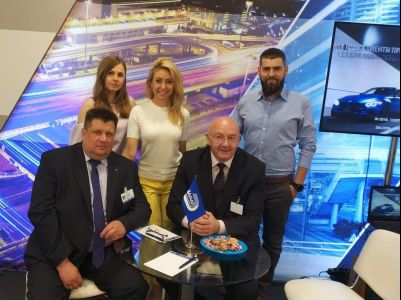 At the end of May, the area of the National Library in Minsk became a meeting place for representatives of the TSL industry. Inelo also participated in the two-day fair, where the company presented its product portfolio, and the experts conducted additional training for those interested.
On 30th and 31st May, International Specialist Trade Fair organized by the Belarusian Association of International Road Carriers (BAMAP) was held in Minsk. The annual event is addressed to all managers of transport companies, carriers and logistics employees who want to be up to date with information from the TSL industry, as well as to get to know the best transport solutions, both domestic and foreign. Representatives of the INELO brand – a producer of the highest quality software and electronics for analyzing and settling drivers working time – could not miss the two-day meeting. As part of the visit organized by BAMAP VEDA, INELO experts – Mateusz Włoch and Ivanna Byczkowska – conducted trainings on smart tachographs and regulations regarding drivers' work to Belarusian carriers. The lectures were very popular, and our experts answered the most bothering questions, clearing up any doubts among the participants.
The Training Centre of Professional Development of Managerial Employees and Specialists BAMAP-VEDY and its director Gennadiy Bronislavovich Dashkevich deserve special thanks for the invitation and the organization. We are happy that our experts could share their knowledge and experience with the participants of the event, which, for both parties, was an opportunity to strengthen the cooperation.