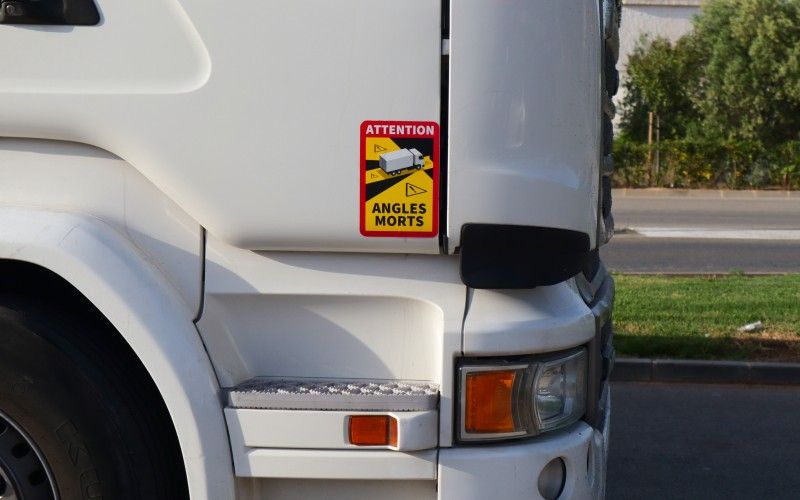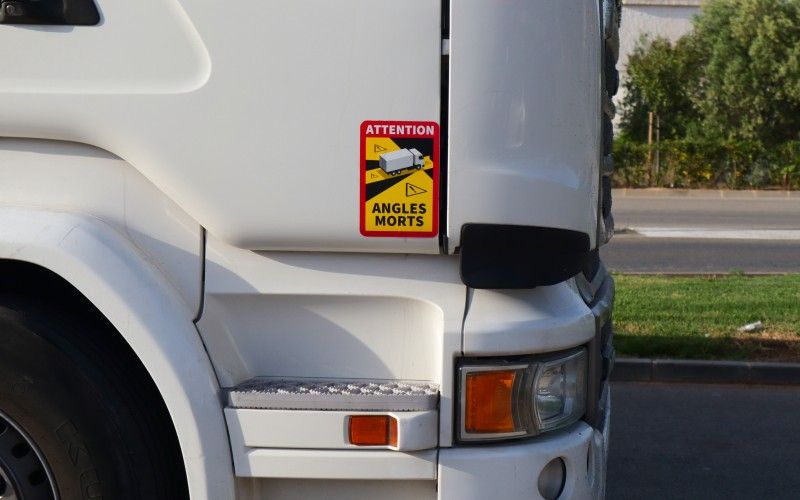 Legislators in various countries introduce numerous regulations to improve traffic safety. In this context, particular challenge is posed by trucks, as they require special regulations to minimize the risk of accidents due to their mass and size.
Such regulations concern not only vehicle speed and technical condition control or compliance with the rules on driver's rests and working time, but also the use of proper markings to increase traffic safety. An example of such marking is the "ANGLES MORTS" warning sticker used in France. Below you will find all the necessary information about it.ANGLES MORTS means literally "dead spots". This French expression refers to the vehicle areas the driver cannot see while driving – these are, for example, the areas behind the cabin or at the sides of the truck. ANGLES MORTS stickers are intended to increase caution of other traffic participants – especially pedestrians, cyclists and motorcyclists. The French legislator also highlighted the educational value of this type of solution.
Is the ANGLES MORTS sticker mandatory?
The ANGLES MORTS sticker is mandatory in France since 1 January 2021. The adopted regulations apply to trucks with the permissible total weight above 3.5 tons and buses moving around the French territory. The blind spot warning should be placed on the sides and the rear parts of the vehicle.
According to the French guidelines, the stickers should have a specific size – 25 × 17 cm. They should be placed between 90 cm and 150 cm above the surface.
Where to buy the ANGLES MORTS sticker?
ANGLES MORTS stickers are available at border gas stations, distributors, local stores with parts and accessories for trucks and online – for example through popular websites such as eBay.
How to place the ANGLES MORTS marking on a vehicle?
ANGLES MORTS stickers should be placed in such a manner as to ensure their good visibility regardless of the current conditions. At the same time, the markings should not obstruct the visibility of other vehicle elements – statutory plates, inscriptions or lights. The sticker cannot limit the driver's field of vision in any way. The lack of marking or its incorrect placement is punishable by a ticket of EUR 135.
Semi-trailer trucks have to be marked with five stickers located in the following manner:
two stickers on the sides of the tractor unit,
two stickers on the sides of the semi-trailer,
one sticker on the back.
Ready to print sticker design can be found at www.securite-routiere.gouv.fr.