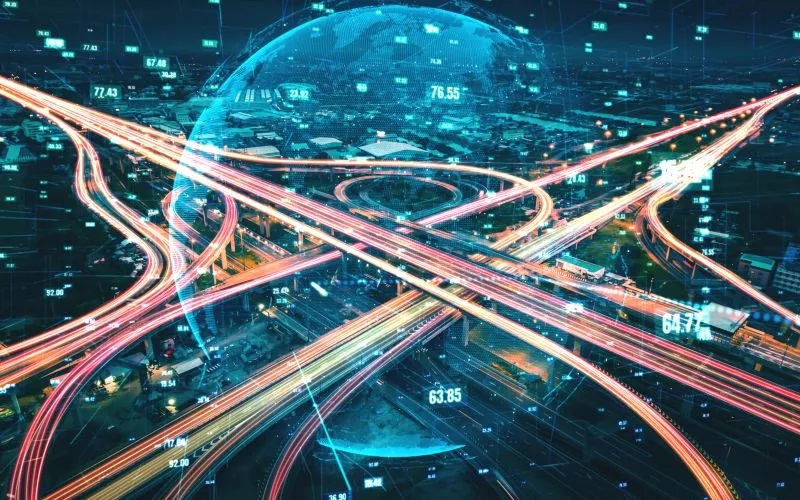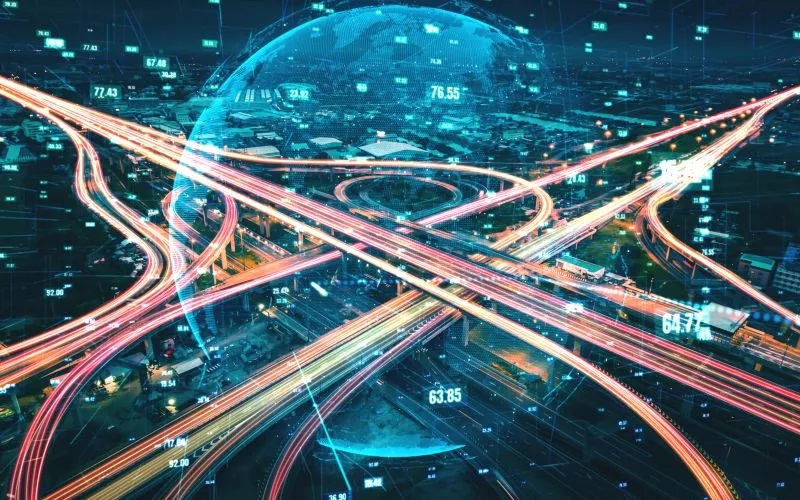 Along with the development of the Internet of Things, artificial intelligence (AI) and data processing and management solutions based on cloud computing, the capabilities of transport digitalization and automation are growing continuously. In this article, we will discuss the road transport trends with the greatest impact on the industry in 2023. We will also look at well-known and ever more commonly used solutions, such as telematics, estimated time of arrival (ETA), digital platforms for carriers or TMS (Transport Management System) tools, which allow for comprehensive management of transport processes.
We will also analyze the benefits of transport digitalization and the challenges that one needs to overcome in order to seize the full potential of these technologies. Read on!
Digitalization and automation in road transport – what does this mean?
Road transport digitalization means using modern technologies to collect, process and share data related to completing transport orders. In practice, this often involves current data on the cargo transported, vehicle used, route, driver's working time, as well as job-related activities performed. On the other hand, automation is using tools for eliminating or maximally limiting human involvement in the individual processes, which positively affects the quality of service and significantly lowers the risk of human errors.
Digitalization and automation of transport are complex processes, however the associated benefits are huge. Along with the growing demand for fast, safe and effective transport, they are one of the key factors for growing your competitive advantage on the market.
The newest trends related to digitalization and automation in road transport
Current transport digitalization trends include broadly-understood computerization of processes and transport network optimization. We are seeing a constant growth in the popularity of the digital platforms for carriers, as well as a growing interest in the use of AI in transport processes and data mining in logistics.
Unchangingly, telematics and TMS play an important part. Telematics is a toolset which allows gathering and analyzing vehicle data, which positively affects fleet management effectiveness and enables real-time vehicle tracking. Telematic solutions, such as Gbox Assist, allow the carriers to monitor the most important parameters, e.g. fuel consumption, and track their drivers' working time. When talking about novelties, ETA, that is the estimated time of arrival at the destination, should also be mentioned. ETA Smart – a functionality from the Inelo Group – is an advanced example of this technology, which not only provides detailed estimation of the arrival time, but also takes into account the working time and includes the mandatory rests.
In turn, TMS systems are tools that offer features such as automation of logistic processes, e.g. transport planning and organization, order assignment and tracking, as well as documentation management. Software such as, for example, fireTMS, offers a range of modern options for forwarding, logistics and accounting, as well as functionalities to improve and speed up contact with the driver.
Benefits of implementing modern technologies in road transport
Implementation of modern technologies in road transport provides many benefits for both the carriers and their customers. These innovations allow transportation companies to increase the number of deliveries, at the same time avoiding the need to increase costs. Automation and digitalization of road transport allows to shorten order lead time and increase control over the cargo. In practice, the benefits of implementing moder technologies in road transport are invaluable and their use has even become necessary in order to maintain a high level of services and remain competitive in the market.
Modern transport technologies are also a way to overcome the unresolved issues of the European TFL industry, such as the shortage of drivers and the growing costs. Digitalization and automation contribute to increasing the efficiency of using the drivers' working time and company's fleet (by reducing the number of empty runs, amongst other things).
Digital platforms for small carriers: a chance for success in the industry
During the times of rapid technological development and progressive digitalization, more and more industries use platform solutions, which facilitate more effective information exchange and service provision. The transport industry does not drag behind, thus digital platforms for carriers, where it is possible to publish and search for transport offers, are gaining popularity. What are their main functions and advantages?
Easy offer search and comparison: digital platforms allow potential customers to more easily find available transport options and compare the prices and services offered by different carriers.
Automated transport services ordering process.
Order completion progress tracking capabilities.
Streamlined management of documentation, such as invoices, confirmations of receipt and customs documents.
Ratings and opinions: digital platforms allow customers to rate and present their opinions, which helps other customers in selecting the appropriate service provider.
Digital platforms for carriers are especially convenient for small and medium enterprises, allowing them to start to effectively compete against larger, more technologically advanced companies.