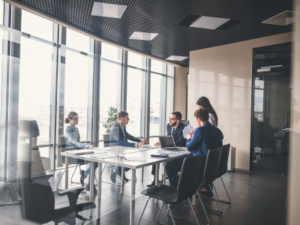 The January meeting of Corte devoted to new cards for 2nd-generation, version 2 tachographs (G2V2) has already taken place. "Card Working Group" members – especially institutions issuing the cards, including Polish PWPW representatives – took part in the event. Numerous Inelo representatives were also among the participants.

The Inelo Group representatives included: Piotr Żółty, International Business Development Director, Małgorzata Pander, International Development Expert, Mateusz Włoch, Development and Training Expert, and Małgorzata Gandor-Trzensisko, Enforcement Authority Services Sales Manager. It is the active participation of our experts in CORTE meetings that allows us to inform you about the most important changes concerning each carrier.
Meeting summary
Revolutionary changes to the new smart tacho cards – that's how the topic the event participants discussed could be briefly summarized. Below, you will find the most important findings from the last meeting:
New cards for 2nd-generation, version 2 tachographs (G2V2) – this applies to the cards of drivers, inspector and workshop cards as well as enterprise cards. More data will be saved on the drivers' cards, which will be possible owing to the new file structure, e.g.: automatic border crossing, car position during loading/unloading, load type (carriage of persons, objects), GNSS authorization, additional calibration data: country, time and tachograph configuration.
Road check from the last 56 days – from 31 December 2024, the inspectors will carry out road checks for 56 days (currently, 28 days). For this purpose, the card memory will be increased by 85%. It should be noted that they will be compatible with 1st-generation (G1) tachographs and first smart tachographs (G2V1).
All card issuers are ready to issue new cards, but they are waiting for new tachographs to carry out final tests and obtain the final certificate. Unfortunately, new tachographs G2V2 are currently not available for tests yet, which is why the date of new cards issuance – 21 June 2023 – is unsure.
Retrofit – from 21 August 2023, only 2nd-generation, version 2 tachographs (G2V2) will be installed in new trucks. However, it is expected that their software would need to be updated, most probably from 1 January 2024, when the OSNMA authorization system is made available. The European Commission has drafted a proposal that is to be approved and made public in the next few weeks.
New DSRC violations – so far, new smart tachographs (G2V1) have shown 19 RTM parameters via the DSRC system; now, 6 new ones will be added:

time when the last evidenced vehicle location was available;
continuous driving time;
longest daily driving time for the current and previous RTM shift;
longest daily driving time for the current week;
one-week driving time;
two-week driving time.
Inelo among the suppliers of DSRC data readers
Changes that are being drafted will allow the inspectors to carry out more thorough pre-selections of trucks that should be stopped for a more detailed check in the future. All control authorities must be equipped with DSRC data readers till August 2024. INELO is also one of these suppliers, and it offers another TachoScan Control software module with DSRC antenna, which allows to download and decode DSRC data and present it in a well-structured table version directly in the program.